Posted November 3rd, 2017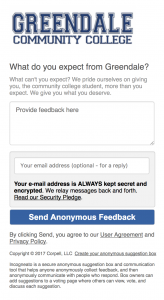 We've just put the finishing touches on a newly requested feature allowing those on the Professional or Premier Plans to further customize their boxes. Now, in addition to having one custom image or logo and button color, customers on these plans can have different logos or images for each of their boxes.
This can be useful for multiple groups within the same organization utilizing the same account or for those who simply want to differentiate the look of each box. Now they don't need to have the same logo.
And if you haven't yet tried collecting anonymous feedback with an Incogneato box, give it a try today. We are still offering great discounts on all plans for a little while longer. With plans starting as low as $7.65/mo and free 30-day trials for all plans, we're making it easy and affordable to collect feedback from customers, employees, or anyone.